When you are looking for art in New York City you can spend your time fighting the crowds at the Metropolitan Museum, MOMA or The Whitney, me, I prefer looking for the smaller museums and galleries. They offer excellent exhibits without having to push my way through throngs of humanity to see the art. One excellent choice is the Asia Society.
John D Rockfeller III photo by José Arturo Quarracino via Wikipedia
The Asia Society was founded in 1956 bu John D. Rockefeller III to promote greater knowledge of Asia in the United States. Its mission is to build awareness about Asian politics, business, education, arts, and culture, through education. It sponsors art exhibitions, film showings, performances, lectures, and educational programs. It covers the area from Iran to Japan and from Central Asia to the South Pacific.
Their main offices, in New York City, were renovated in 1999 and expanded to include two floors of galleries along with a cafe in the lobby and an auditorium. When I visited in May of 2019, there were four exhibitions being presented.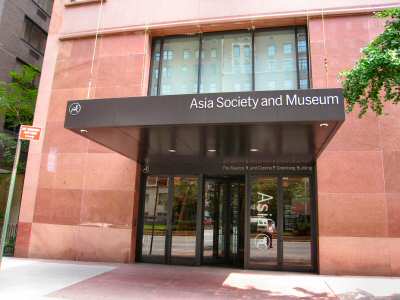 Photo via DirtcheapNYC.com
On the third floor of the museum, there is Masterpieces of the Asia Society Museum Collection. The collection was founded by a donation from the Rockefeller family. The theme of this exhibit is Movement of Buddhism Across Asia. It includes ceramic and sculptures from countries spanning China to Southeast Asia to India, and presents many different versions of Buddha as visualized in the countries of Asia.
Bottle, China (11th Century)
Bodhisattva Avalokiteshvara, Nepal (13th Century)
Dhumavati Shri Devi, Tibet (15th Century)
Ganesha India (11th Century)
Across the hall you will find Inspired by Modern Indian Art: Works by New York City Students. These are works by groups of students, inspired by art from India.
On the second floor you will find M.F. Husain: Art and the Nation.The heart of this exhibit is Lightning a 10 ft x 60 ft mural he created for a public rally held by Indira Gandhi's Congress Party, in 1975. M. F. Husain was born in 1915, and started his career painting billboards for Bollywood films during the 1930's. His use of bright colors and stylized figures harken back to those roots, but also show the influence of later cubist works. The horses in Lightning remind me of Picasso's figures in his masterpiece Guernica.
Lightning by M.F. Husain
Lightning Detail
Lightning Detail
The final exhibit, also on the second floor, is Reza Aramesh: 12 noon, Monday 5 August 1963. Mr. Aramesh was born in Iran, and moved to London as a teenager during the 1990's. This exhibit is inspired by the victims of government violence and torture and by the iconography of saints in the Catholic Church. The lime wood sculptures are both beautiful and horrifying, as they capture they bodies of victims in the throes of pain. Some critics have called it homoerotic, although I am not sure about that. I do believe that these figures are presented in a style similar to the ways that the deaths of the saints were in medieval times.
12 noon, Monday 5 August 1963
The Asia Society is wonderful resource. Whether you live in the city or are visiting, check out its website for fascinating exhibits, films, lectures and performances. Take in a piece of Asia in New York.
Getting There:
Take the Q train to 72nd street or the 6 train to 67th street. Walk to 70th street and Park Ave.
Admission:
$12/ $10 seniors/ $7 Students with I.D.